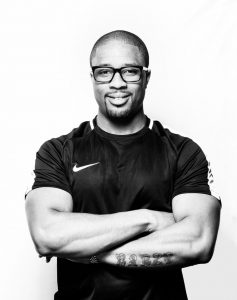 My name is Babs Afolayan and I am the founder of Refresh Health. You've been introduced to our exciting new brand, concept and the benefits of reformer Pilates; now, here is a bit about me and why I can't wait to get as many of you as possible to join me at Refresh Health in Reading…
I come from a solid sporting background having played football to semi-professional level and also represented my home borough in triple jump and 400 meter racing. I studied Sport and Exercise Science at Coventry University and graduated in 2008. On completion of my degree, I worked for corporate gyms in central London for 5 years; providing health assessments, personal training and gym maintenance. The corporate world teaches you a great deal about service, delivery and expectations, something which supported my growth and passion for the progress and results of both my clients and my work.
I then moved into commercial fitness and as much as it has its perks; service and customer care, attention to detail and client satisfaction was just not at the forefront of delivery. For me, this completely negated the purpose and goal of encouraging people to get fit and healthy. One thing I learnt very quickly is that genuinely caring about clients and demonstrating my enthusiasm for health and fitness is fundamental to achieving a success, personally and in business.
I soon realised the commercial world was not for me! I then took on my next challenge and decided to train in Reformer Pilates: a very different type of fitness for me, but one I was intrigued to learn more about. I've always enjoyed learning new things about the body; besides after my first reformer Pilates class I could really see and feel the benefit! Being an active person who loves a good workout, it quickly became apparent to me that the reformers could provide a challenging workout, whilst correcting posture, form and technique, therefore limiting injury.
I began my Reformer training with Chilli Pilates. This was an absolute blessing! They expected the best from their trainers; the course was intense and thorough.  They had different forms of assessment and taught us how to build our personal business and even read books such as the "The Chimp Paradox" to help with personal development. I can't thank them enough, it was amazing.
Along the way, I have worked for some of London's best reformer Pilates providers including Tempo Pilates. Having that all-important base and knowledge from Chilli Pilates, and working for Tempo Pilates, again I can only describe as a blessing. Based in trendy Shoreditch, Tempo was all about providing Pilates to music. This added fun, flow and challenge to my classes. The teacher training was fantastic. Learning from other great teachers was only ever going to benefit me!
I am now settled with my wife and young daughter in Reading. Very soon after moving here, I realised something was missing and that's when the idea hit me: why deprive Reading of  my knowledge and experience in Reformer Pilates? It seemed like a no-brainer. As a result, I've spent the last few months using my many inspirations from London to help in establishing Refresh.
With Refresh, I aim to bring you all the following:
– Excellent customer care with attention to the customer experience.

– Challenging and fun classes

– A high-end studio and changing facilities

– Nutrition, juice and coffee all under 1 roof

– Injury rehab

– Regular classes throughout the day

– Staff who are passionate about their work.

– Some wicked tunes!
I hope you're as excited as I am. I look forward to showing you how awesome Reformer Pilates can be and cannot wait to see Refresh and Reformer Pilates in Reading grow with your support!