Pilates, you say? But I prefer to deadlift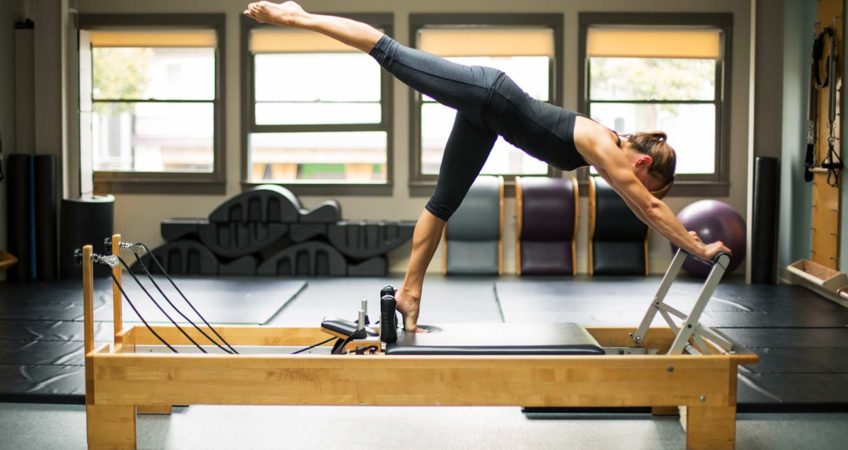 Pilates, you say? But I prefer to deadlift.
Weights, cardio, the odd LBT class and a lot of spin have been the make-up of my fitness life since the age of 16. I need to sweat, burn and walk out shaking in order to feel like my workout has been worth it. Therefore, yoga and Pilates have always taken a back seat for me. I know they do wonders for your core, posture and flexibility, but I've never been sold – after a day at my desk, the classes did not deliver the taste of sweat I was after. This was until I discovered and tried Reformer Pilates. 2 hours after the class and my whole body was still shaking; 2 days later and the DOMs are still pretty real!
Pilates is on a mat right?
WRONG! I'd tried the reformer in the past, but never taken part in a full class. Reformer Pilates takes place on what can only be described as an acrobat's dream in a gym?! I was greeted by a row of carriages with springs, dumbbells, rings and suspension straps – for the first time, I was in a gym based environment and I didn't have a clue what to do or where to begin. I guess that's the beauty of fitness – Reformer Pilates presents beginners through to fitness pros with the challenge of finding their balance and a new form of strength whilst pushing, pulling and working in tandem with one of the most versatile machines I have ever used in fitness.
And it's just about strengthening your core?
Wrong again. My first experience of Reformer Pilates was a full body workout, which made every muscle in my body burn. The classes can be designed to challenge every single muscle group and more often than not, everything is engaged ALL THE TIME. Trying to control your core, whilst pushing away from the base of the machine with the power in your legs, lifting into a glute bridge only to do chest flies with the suspension straps…I can't think of a single muscle that is allowed to rest! However, as daunting as this may sound, classes are small, controlled and with the most patient instructors – they take note of everything: your small toe may be out of line and they'll walk past to remind you about form, technique and the end result. I walked out feeling exhausted, but energised in body and mind too.
Does it make you sweat?
YES. The pace of Reformer Pilates is very different to mat based Pilates. Movements flow and are graceful; however, with the control and balance needed to manage the reformer, you are moving in and out of exercises fluidly and quickly. There are very little breaks and very many glute pulses! With each move I could feel different muscles engaging to a point I have not felt with squat jumps or a deadlift; my heart rate was rising and sweat was most definitely dripping.
Ok, but does it make a difference?
Absolutely. Coming from someone who has always incorporated Pilates into their training regime, I know how much the development of core strength matters to your overall technique, stamina and body definition. Reformer Pilates takes this to a whole new level. The exercises incorporate resistance, balance, cardio and mobility development; you see an improvement in technique after each movement and repetition. Reformer Pilates instructors mean business and listening to their guidance is key – you will notice a difference in your mental strength whilst learning to control your breathing and energy to fuel your workout; you have no choice but to focus and see the difference.
My verdict?
Most people who start Reformer Pilates don't look back. With each class your technique develops, you see how far you can push your body and you leave feeling stronger and leaner. Safe to say, I'm close to becoming addicted.
Zahara Chowdhury